FREE SHIPPING WORLDWIDE
The New Gold Standard Of Hair Straighteners 



Straighten & Hydrate Your Hair 4x Faster!


With Max Glide™ your hair will be straightened 4 times faster and super hydrated with the added steam.


Controlled Steam burst Technology - 200% More Health Hydration


Unlike irons with Continuous Steam which put the excessive steam back into the hair, Max Glide™ has the exclusive controlled steam button. One or two pumps of the steam button, adds just the right amount of hydration to soften and protect the tough curls, before straightening the hair.


Patented Ceramic Detangling Pins - 400% Faster Straightening


120 Precisely position ceramic pins and ceramic plates, gently detangle and straighten the hair in one step.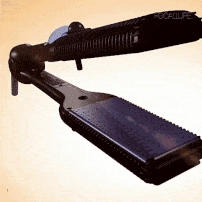 Protective Styling Ridges - Lower Risk Of Burn


Keep it less hot to the touch, allowing you to start right at the very roots, reaching the hair right at the scalp. The patented ridges are also lined up so that you can easily create beautiful curls of flips.


What Makes The Max Glide™ The Best Hair Straightener In The World?
Controlled Hydrating Steam:

 

Hydrate, soften and protect the hair, especially the dry ends
Chrome Strip Top: help creating curls and flips faster and easier
Protective Styling Ridges:

 

Significantly lowers the outside surface temperature and reduces the risk of burns letting you get very close to scalp
Controlled Steam Button:

 

Puts the precise amount of steam on dry and brittle parts of the hair to hydrate and protect
Digital Temperature Control:

 

Customize the temperature for your hair type. Temp settings from 190F to 450F
Swivel Cord:

 

Convenient 360* Swivel
Retractable Detangling Pins:

 

Perfectly arranged Retractable Detangling Pins allows you to detangle and straighten the hair right from the roots to the end at the same time without the need to hold a comb or brush in front of the iron
---